Eric Degesero runs the Fuel Merchants Association of New Jersey who represents retail heating oil and Bioheat distributors as well as motor fuel distributors throughout the state. Degesero said during the Biodiesel/Bioheat Forum in Mankato, Minnesota last week that the state, and thus his members, are seeing interest in Bioheat but an accelerated interest in the heating oil blend due to regulations and the cleanliness of fuels.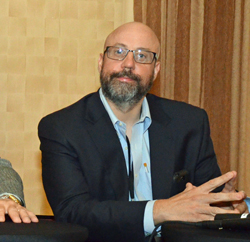 "What's happened to us over time is that the goal line has been moved. We've worked out addressing our fuel being 'dirty' from a traditional environmental perspective," said Degesero. "We worked very hard to remove sulfur from the fuel which we did, and we hadn't even got that across the goal line and they kicked in a new game around greenhouse gas and global warming potential. That is where biodiesel blended into heating oil, thus the term bioheat, is a game changer because it allows us to be better than our competitor, which is natural gas in the Northeast that is relative to emissions across the board."
He stressed that using a B5 Bioheat blend poses no problems for current equipment but trials with blends of up to B20 have also posed no issues. Degesero explained that a study they did in conjunction with Penn State found that using a B20 Bioheat blend actually increases system performance in existing heating systems in the field.
Learn more about how New Jersey is adopting and using Bioheat to meet environmental goals by listening to Chuck Zimmerman's interview with Eric Degesero: Eric Degesero, Fuel Merchants Association of New Jersey