The 28th Annual American Coalition for Ethanol's (ACE) Ethanol Conference was a huge success. At times the room was stand-up only and the content was engaging and informational for attendees. I had a chance to sit down with Executive Vice President Brian Jennings who kicked off the conference and closed the conference and he said that there were a few presentations that really stood out.
The first was the retailer panel that featured Kum & Go and what they are doing to promote the use of E15 and other ethanol blends to consumers in the Midwest, along with Protec and what they are doing in a totally different way and different part of the country (South/Southwest) to bring ethanol to consumers.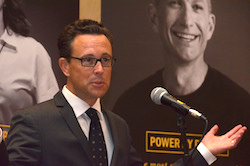 "There are a lot of smart, progressive companies out there that see the advantage, that see the price advantage, see the other advantages that E15 and higher blends bring to the table," said Jennings. "I know it's frustrating for some in our industry because the progress of E15 is going as quickly as any of us like but progress indeed is being made and it's a testament to the work that ACE and others are doing with the Kum & Gos in the world and the Protecs of the world."
Another panel that was very informative, noted Jennings, was the panel of ethanol producers who are adopting new technologies and becoming pioneers of emerging technologies. These plants, he said, are leading the way in production improvements, in new product developments, bring in new revenues and help them diversify. Jennings hopes that other ethanol producers both at their conference and not, will look to these plants as examples and also embrace these new technologies and co-products.
The conference really focused on emerging technologies and wins in the industry but none the less talk of the Renewable Fuel Standard (RFS) was common among attendees. I asked Jennings what the next step was for ACE, on behalf of the industry, to keep the fight for the RFS front and center. He said that the industry has until November 30th to continue engaging with the Environmental Protection Agency (EPA) and they will continue to do just that. "They have mountains of comments they have to sift through and we're proud of ACE and the ethanol industry on how many comments were submitted."
"I am enormously frustrated with the EPA," said Jennings. "I have to be honest. We try to be constructive, we try to be helpful, and they just really want to continue to base this thing on the blend wall. So we have our work cut out for us."
ACE hopes to engage in a Power to the People campaign this fall in the beltway and around the country to educate consumers about the benefits of ethanol.
To learn more about the Ethanol Conference and what's next for ACE, listen to my interview with Brian Jennings here: ACE's Brian Jennings Conference Review