The theme of this year's American Coalition for Ethanol (ACE) convention was "Quiet Ingenuity, Bold Advance" and one of the last sessions of the event featured three ethanol producers who embody that slogan.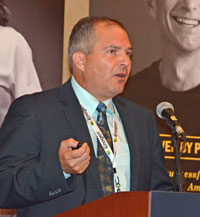 Delayne Johnson of Quad County Corn Processors has the distinction of being CEO of the plant to produce the country's very first gallons of commercial cellulosic ethanol just last year. The plant has produced about two million gallons of the fuel in the past year.
Johnson gave an update on what's new with the 15 year old company and how they are innovating to stay profitable. Delayne Johnson, Quad County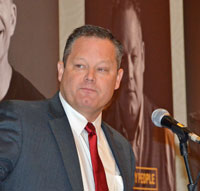 Jeff Oestmann with East Kansas Agri-Energy is excited about their renewable diesel project under construction.
"Product diversity is key," said Oestmann. "One of the nice things about renewable diesel is that it can run on its own. Obviously we're building the plant to run on corn oil, but it can run on any kind of oil, animal fat, or greases."
Listen to Oestmann give his update here: Jeff Oestmann, East Kansas Agri-Energy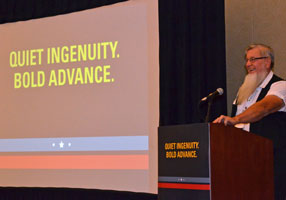 Ray Defenbaugh of Big River Resources talked a lot about the future of the industry, both for agriculture and ethanol.
"What I'm really concerned about is saving the family farm," said Defenbaugh. "What we're doing here is an important job."
Defenbaugh is involved in many organizations, from ACE to RFA to the U.S. Grains Council and more – and he encouraged everyone to get involved as well. Ray Defenbaugh, Big River Resources