Doug Root works in the world of biofuels in his role with the Ag Utilization Research Institute (AURI) where he looks for new opportunities for Minnesota commodities and co-products. One example: biodiesel. Root spoke during the Biodiesel/Bioheat Forum in Mankato, Minnesota where East met Midwest, or the home of Bioheat met the home of soybean production.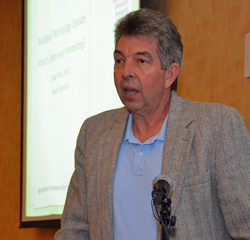 There are new technologies, explained Root, including new technologies to make biodiesel, new opportunities to utilize the biofuel, and new markets to expand to. There are also opportunities for reduced cost, quality and alternative feedstocks for manufacture of biodiesel or sale into the bioheat market and into the transportation fuels market.
Root said its been exciting to see the biodiesel industry mature and see the improvements in biodiesel quality, year after year to the point where there are virtually no longer low-temperature issues with the biofuel.
You can listen Chuck Zimmerman's interview with Doug Root here: Doug Root, Ag Utilization Research Institute