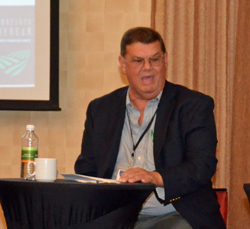 Ray Hart with Oakdale, New York-based Hart Home Comfort, is a Bioheat dealer who distributes the biodiesel heating oil blend across New York and Long Island. He spoke during the Biodiesel/Bioheat Forum that took place in Mankato, Minnesota and hosted by Minnesota Soybean. His company was an early adopter of Bioheat and thought it would be a great renewable fuel to set themselves apart from their competition. And it worked.
His company started with one truck and only a few customers and today his company has a fleet, hundreds of customers and their own terminal where they blend the biodiesel into the heating oil. Hart said that along the way there were a few obstacles. At the time they began selling Bioheat no one had heard of the product before. Education is an ongoing challenge, said Hart, who has been selling Bioheat for nine years but noted that more and more customers are asking for the fuel.
Hart said that they try to do everything possible to source the biodiesel as local as possible. He added that the event was a great opportunity to meet some of the people, including the farmers, who are growing the soybeans to make the biodiesel that has helped his business become successful.
You can listen Chuck Zimmerman's interview with Ray Hart here: Ray Hart, Hart Home Home Comfort