The 156 MW Comanche Solar project located in Pueblo, Colorado has broken ground. When completed, SunEdison, project owner, said it will be the largest solar power plant east of the Rocky Mountains and the largest in Colorado. The farm will product more than 300 gigawatt-hours of energy per year.
"The Comanche Solar project demonstrates SunEdison's ability to deliver renewable energy at a price competitive with conventional resources," said Paul Gaynor, SunEdison executive vice president for EMEA and the Americas. "In addition, the Comanche Solar project will be financed through SunEdison's $1.5 billion non-recourse, First Reserve Warehouse. This facility is designed to expand as projects move into construction without incremental equity contributions by SunEdison."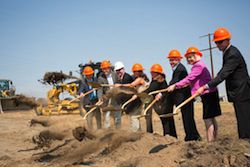 Public Service Company of Colorado, a subsidiary of Xcel Energy, will purchase electricity generated by the solar power plant under a 25-year power purchase agreement with SunEdison. The power contract was awarded as part of an open solicitation where Comanche Solar was selected as preferred to other forms of energy, including natural gas.
"SunEdison, through the Comanche Solar project, is helping move us in the right direction. It demonstrates that large-scale solar power can play an increasingly larger role in our customers' energy future at a competitive price point," added David Eves, president of Public Service Company of Colorado, an Xcel Energy company. "Our participation in this project demonstrates that Xcel Energy is committed to providing customers the clean energy they want, at an affordable price."
Construction has commenced on the project and will be managed by Renewable Energy Systems Americas Inc. (RES), based in Broomfield, Colo., a leader in the development, engineering, and construction of wind, solar, transmission and energy storage projects.