There are a lot of candidates vying to be the next president of the United States floating around the Iowa State Fair, but for being in Iowa, many are missing the boat on two very important issues to the state – energy and agriculture. This weekend, presidential candidates Rick Santorum, former U.S. Senator of Pennsylvania (Republican); Lincoln Chafee, former Governor of Rhode Island (Democrat); and Bernie Sanders, U.S. Senator from Vermont (Independent running for the Democratic nomination) all pushed their economic and military agendas as part of the Des Moines Register Soapbox series while laying low on other major issues. Let's recap their remarks.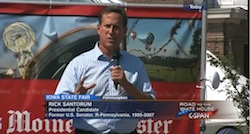 Rick Santorum touted his military expertise by noting that "no one in this race has the record I do on national security". If elected, he will defeat ISIS and how he will do this is being explained in his 2020 Perfect Vision for the Future. Like George Pataki (R-NY) he wants to cut corporate taxes. Santorum was silent on renewable energy, agriculture and climate change.
Listen to why Rick Santorum wants to be president here:Rick Santorum at the Iowa State Fair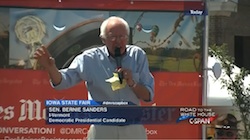 Bernie Sanders had quite the crowd and has set himself apart as being the only candidate to speak on the soapbox so far who wants to expand social security. He plans on doing this by lifting the cap on taxable income. Several other hot button issues: make all higher education free; overhaul campaign finance; end racism by bringing about major reform in the criminal justice system; equity pay for women in the workforce; and economy – "We need an economy that works for working people".
And, climate change is real. He said, "When we talk about our responsibilities, as adults, as parents, as citizens of this Earth, we have a moral responsibility to make certain that we leave this planet in a way that is habitable for our kids and grandchildren. The debate is over. Climate change is real. Climate change is caused by human activity. Climate change is already causing devastating problems in our country and around the world. What the United State must do, and I will do as president, is lead the world in working with other countries to transform our energy system."
Listen to why Bernie Sanders wants to be president here:Bernie Sanders at the Iowa State Fair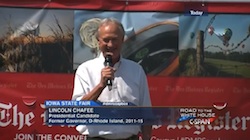 Lincoln Chafee believes that when electing legislators, voters need to look at past performance, character and vision. He told the crowd that while he was governor, he worked to curb climate change; fought for marriage equality; made investments in education a priority; and helped to lead the nation in the rollout of Obama Care. In terms of national security, he will work hard to end wars if elected saying, "Prosperity comes with peace".
While he didn't address renewable energy during his remarks, he did answer the question on his stance on renewable power for rural America. His answer: hydropower. He was part of a group who worked with Canada to bring hydropwer down to the northeast. He stressed that it is reliable, affordable and clean and needs to have a more prominent position in the energy discussion. He also supports other forms of renewable energy including geothermal, wind and solar.
Listen to why Lincoln Chafee wants to be president here:Lincoln Chafee at the Iowa State Fair
None of the candidates specifically addressed the Renewable Fuel Standard (RFS) this time around. But at some point all candidates in the race will have to discuss their position to win the state's nomination- Iowa is the leader in biofuels production including ethanol and biodiesel and has been leading several campaigns to save the RFS.
Click here to read our coverage of the Des Moines Register Presidential Soapbox series at the Iowa State Fair.