Republican Jeb Bush, former governor of Florida and presidential hopeful, kicked off his time on the Presidential Soapbox promoting his support of renewable energy and agriculture. Florida has a huge agriculture community and is home to one of the first advanced cellulosic facilities, Ineos Bio located in Vera Beach, that began production in May of 2013. The plant uses wood, plant and landfill waste. And this May, the Advanced Disposal plant began producing gas-to-energy from the emissions created by the Sarasota County, Florida landfill.
Bush began his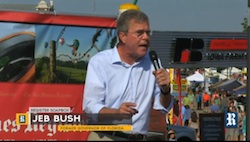 remarks by focusing on an America in decline. But unlike his predecessors, he enveloped his support of two of Iowa's largest industry's – renewable energy and agriculture – at the very beginning of his talk rather than waiting until he was asked by an Iowa State fairgoer his stand of the two issues.
Bush noted that the EPA, through its Clean Air Act, "will stifle the ability for industry to be created and agriculture to work leading the world". "We have serious, serious problems," continued Bush. "We need to embrace the energy revolution, and be energy secure with North American resources in a short period of time with American ingenuity, American innovation and American technology."
Listen to why Jeb Bush wants to be president here:Jeb Bush at the Iowa State Fair
Click here to read our coverage of the Des Moines Register Presidential Soapbox series at the Iowa State Fair.