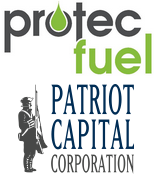 Fuel retailers will have an easier path to being able to offer ethanol. Patriot Capital Corporation and Protec Fuel have teamed up to offer 0 percent financing for retailers who install dispensing equipment for E15, E85 and higher ethanol fuel blends.
The rate – available on terms of up to 60 months – is available to qualified retailers who install dedicated dispensing equipment and sign a supply agreement with Protec, a leader in turnkey ethanol solutions. Protec works closely with its C-store and fuel-marketing clients to manage and implement a complete alternative fuel solution, with services that include:
– Equipment expertise in E15, mid-level blends and E85 systems, dispensers and stations.
– Project-management or co-management of infrastructure installations, storage tank conversions or installs.
– Assistance with permit applications and filings.
– Station site promotion, target marketing, and advertisement.
"Protec has developed a solid reputation for providing C-store operators with an expanded range of fuel options, ranging from E15 to E85," said Chris Santy, managing director, Patriot Capital Corporation. "We are excited about expanding our partnership with Protec Fuel. This partnership would include financing options for dispensers, price signs, underground storage tanks and other equipment work that will support the expansion of alternative fuels."
"Patriot Capital Corporation is well regarded as the industry's leader in providing financing to the fueling industry," said Todd Garner, managing member and CEO of Protec Fuel. "We are excited to expand upon the expertise that Patriot has in providing hassle free financing to our customers. This will enable Protec to achieve our mission of broadening the footprint of ethanol availability for consumers and commercial fleets."