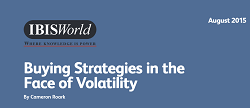 The ethanol market can be a pretty volatile place when it comes to pricing. IBISWorld is offering a report on how to identify where volatility exists, not just in ethanol, and how to reduce risks in price instability.
Because of fluctuating key input costs, prices of diesel and ethanol have displayed a high level of price volatility. While diesel and ethanol are both used for fuel, they do not share the same production process because diesel fuel comes from crude oil and ethanol comes primarily from corn…
Meanwhile, the price of corn is estimated to fall 21.7% in 2015, which will play a large part in the 29.2% drop in ethanol prices expected this year. Similar to diesel, ethanol prices are forecast to reverse and then stabilize at mild growth in the coming years.
The fuel market is known for its booms and busts, which can foster a hectic procurement environment. As such, buyers are encouraged to engage in long-term contracts with their fuel suppliers to reduce their exposure to price fluctuations. By locking in favorable rates now while prices are low, buyers can avoid the risk of anticipated prices rises in the future.
More information is available here.