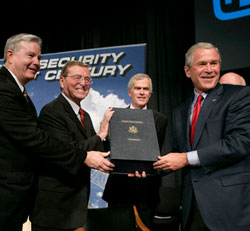 August 8, 2015 marks the 10th anniversary of the Energy Policy Act of 2005 (EPAct) containing the original Renewable Fuel Standard (RFS) being signed into law by President George W. Bush.
The signing ceremony took place at the Sandia National Laboratories in Albuquerque, New Mexico, where President Bush noted that the bill he was signing into law would "…lead to greater diversity of fuels for cars and trucks. The bill includes tax incentives for producers of ethanol and biodiesel. The bill includes a flexible, cost-effective renewable fuel standard that will double the amount of ethanol and biodiesel in our fuel supply over the next seven years. Using ethanol and biodiesel will leave our air cleaner. And every time we use home-grown fuel, particularly these, we're going to be helping our farmers, and at the same time, be less dependent on foreign sources of energy."

Renewable Fuels Association (RFA) president and CEO Bob Dinneen remembers that day very well, particularly the support that the new law had from the oil industry. "It would not have happened without the support of the American Petroleum Institute," said Dinneen. "They wanted out of MTBE, they wanted to have an argument in court that would protect them from the lawsuits against MTBE, so they were supportive of a growing market for renewable fuels."
However, Dinneen notes that the oil industry underestimated the ability of farmers and the ethanol industry to gear up and produce such significant quantities of the domestic fuel that they surpassed the original goal of 7.5 billion gallons for 2012 six years early. "The program was an immediate and overwhelming success … and it led to RFS2 being passed in 2007," said Dinneen.
Dinneen recounts the success of the RFS over the past decade and how it has changed energy, economic, and rural policy in this edition of The Ethanol Report. Ethanol Report on RFS 10th Anniversary