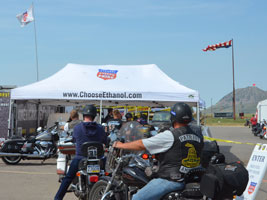 From the Midwest to Mexico, the west coast to the east coast, every state and various countries – bikers of all stars and stripes love the word free, especially when it comes to fuel for their rides. That made the fourth annual Renewable Fuels Association (RFA) "Free Fuel Happy Hours" a big draw at the Sturgis Buffalo Chip Campground this week.
RFA pumped 1,872 gallons of 93 octane, 10 percent ethanol in four days this week for bikers in town for the 75th annual Sturgis Motorcycle Rally. Many bikers came back every day to fill their tanks, as they spent their days traveling through the beautiful Black Hills. RFA also gave away lots of free t-shirts, coozies, and information about how E10 is approved for use in any motorcycle – not any higher blends.
We talked to a few of the bikers who came through to fill up, including a guy from Mexico City, a farmer from Wisconsin, and others from Iowa, New York, Ohio, and Pennsylvania.
Interviews with bikers filling up with E10
2015 Sturgis Motorcycle Rally with RFA at the Buffalo Chip Photos