In an effort to promote the American Ethanol brand, Iowa and Nebraska Governors have announced a statewide pump labeling initiative to promote the use of ethanol blends including E10, E15, E30 and E85. Both states are offering the approved labels free of charge. The American Ethanol brand was introduced in 2011 when NASCAR adopted E15. So not to confuse consumers, "American Ethanol" is a "brand" only and is the same ethanol blended fuel offered across the country.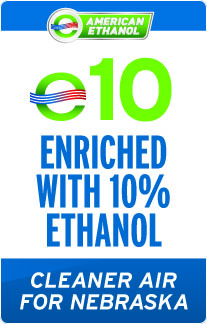 "This new brand label will provide a consistent consumer experience at pumps across the state and capitalize on the high profile that American Ethanol has enjoyed through the NASCAR partnership," said Iowa Governor Terry Branstad. "We want to make it even easier for consumers to find this clean-burning, high-performance fuel wherever they travel."
Nebraska Governor Pete Ricketts, added, "When it comes to air quality, American Ethanol-blended fuel burns cleaner. The new pump labels are a great way to inform consumers of the wealth of benefits American Ethanol-blended fuels provide. It is cost-effective, American-made, renewable and better for our environment."
According to the American Lung Association of the Upper Midwest, fuel blended with ethanol burns cleaner and improves air quality compared to regular gasoline. They also cite ethanol fuel blends lower the level of toxic, cancer-causing emissions in vehicle exhaust—reducing air pollution, improving human health, and reducing greenhouse gas emissions.
Several retail outlets have already begun displaying the American Ethanol label. All vehicles can use E10 while vehicles 2001 and newer can use E15. Flex-fuel vehicles can use any blend of ethanol up to E85.