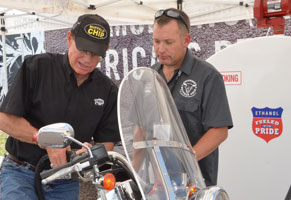 The Renewable Fuels Association (RFA) has been providing free E10 fuel fill-ups for bikers at the Buffalo Chip Campground during the Sturgis Motorcycle Rally for the past four years, and every year Chip owner Rod "Woody" Woodruff is first in line.
"RFA has been here for a long time getting the word out about ethanol, that it is safe, because there's all that false information going out there," said Woodruff. "But, what's important, when they're at the Buffalo Chip, they're extending the hand of friendship in good faith to anybody that wants to accept it and it's very well received here." Woodruff has been a strong supporter of ethanol since 1999 when he bought the motorcycle he rides all the time and he says he has never used anything but E10 in it.
This year marks the 75th anniversary of the Sturgis Motorcycle Rally in the Black Hills of South Dakota and the 34th anniversary of the Buffalo Chip Campground, the place where a big percentage of bikers call home during the rally. Woodruff says they made lots of improvements to the facility in anticipation of increased traffic this year. Early estimates were for a million plus visitors to the rally, which is called "one of" the biggest in the country – but probably really is the biggest.
In addition, earlier this year Buffalo Chip became South Dakota's newest town. "The idea of the town was to be a town for bikers, by bikers, just to have as little regulation and government intervention as possible," said Woodruff.
RFA will be providing free 93 octane premium E10 fuel from 1-4 pm through Thursday at the Buffalo Chip.
Listen to my interview with Woody here: Interview with Woody Woodruff, Buffalo Chip Campground
You can also watch Woody in action in this video:
2015 Sturgis Motorcycle Rally with RFA at the Buffalo Chip Photos