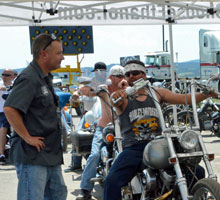 An expanded schedule for free fuel happy hours at the Sturgis Buffalo Chip this year is giving the Renewable Fuels Association (RFA) even more opportunity to educate motorcyclists about ethanol.
"We here on two different levels," said RFA VP of Industry Relations Robert White. "The first is to make sure everyone knows they shouldn't use more than 10 percent ethanol in their bikes."
"On the next level, all of these people have engines at home – car, truck, SUV, lawn mower, chainsaw, weed eater, whatever – we want them to know that should be either 10 percent in their smaller engines, E15 in newer vehicles or E85 in flex-fuel vehicles," said White. "Match the engine with the right fuel."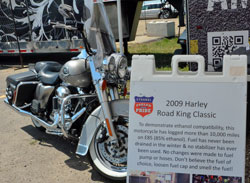 While all motorcycles can use E10, White has a custom motorcycle of his own that can actually use higher blends. "My particular motorcycle is a 2009 Road King Classic Harley Davidson," he said. "All I did was change the computer to allow a wider fuel ratio band so I can use anything from E0 to E85 intermittently, and the bike has run seamless."
The reason White made the modification on his own bike was in part to show motorcycle manufacturers it could be done. "If they did this at the factory it would cost 100 bucks, just like a flex fuel vehicle," said White. Additionally, it was to show that motorcycle engines are capable of running on higher blends. "I've run 85 percent ethanol on it for over 10,000 miles multiple years now," he said. "These motorcycles are a lot stronger than people give them credit for."
No matter what, White says all major motorcycle manufacturers warranty the use of 10 percent ethanol and that is the main message during the free fuel happy hours at the Sturgis Buffalo Chip Campground from 1-4 pm through Thursday this week.
Listen to White explain more in this interview: Interview with Robert White, RFA
2015 Sturgis Motorcycle Rally with RFA at the Buffalo Chip Photos