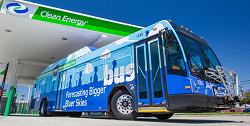 The City of Santa Monica, California, is the one of the first municipal transit systems to convert its fleet to renewable natural gas (RNG). This news release from Clean Energy says it is supplying the Liquefied Natural Gas (LNG) to the Big Blue Bus fleet.
Big Blue Bus has been fueling its LNG and Compressed Natural Gas (CNG) fleet of motor coaches with fuel supplied by Clean Energy since 2012. The process of harvesting and processing Redeem™ provides a product that has fewer impurities than conventional natural gas and is a cleaner burning fuel source.
"City Council has voiced its support for non-fracked, sustainable sources of fuel, and Redeem™ delivers a fuel made entirely of waste; a more sustainable product at an equal cost. This makes BBB's partnership with Clean Energy to use the Redeem™ fuel a win-win solution," said BBB's Transit Director, Ed King.
"Big Blue Bus is a leader in sustainability and our ability to partner with it and provide a completely recyclable natural gas fueling option helps reduce emissions locally and shows other cities the power in using Redeem™ renewable fuel," said Peter Grace, Clean Energy's senior vice president for sales and finance.