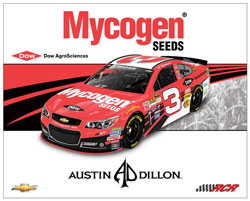 Mycogen Seeds and Richard Childress Racing (RCR) have unveiled a new paint scheme for the No. 3 Mycogen Seeds Chevrolet SS, which Austin Dillon will drive at the Brickyard 400 NASCAR Sprint Cup Series race on July 26.
"Mycogen Seeds is proud to partner with RCR to support the legacy of the No. 3 car," says Damon Palmer, U.S. Seeds marketing director, Dow AgroSciences. "As one of America's fastest-growing seed companies, we're excited to be at the Brickyard 400 to cheer on one of the quickest-rising stars in NASCAR, Austin Dillon."
Palmer says the company's support of the No. 3 Mycogen Seeds Chevrolet SS goes deeper than its new red paint scheme. The car runs on 15 percent ethanol-blended fuel, which has powered every NASCAR Sprint Cup Series race car since 2011. In 2014, ethanol production used more than 5 billion bushels of American-grown corn.
NASCAR drivers have traveled more than 7 million miles on the track with ethanol-blended fuel since its adoption. Ethanol use increases race car horsepower and reduces emissions.
"Just as NASCAR is improving efficiency on the track, Mycogen Seeds is improving productivity in the field," Palmer says. "We provide American farmers with high-performance grain corn hybrids. Ethanol, which helps fuel the Brickyard 400 NASCAR Sprint Cup Series race, is an important market for U.S. corn."
The 2015 Brickyard 400 is set for Sunday, July 26, at 3:30 p.m. ET at the Indianapolis Motor Speedway and is scheduled to air live on NBC Sports.