It's time to start surfing the waves with algae. One of the hottest technologies during the BioEnergy 2015 conference was the algae surfboard developed by U.S. Department of Energy (DOE) funded scientists at the University of California San Diego (UCSD) California Center for Algae Biotechnology.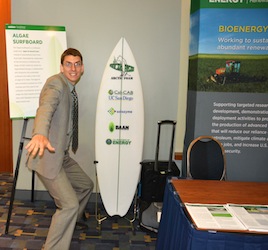 Traditionally surfboards have petroleum, aka fossil fuels, as a component. However, these algae surboards are made from algal oil, produced by Solazyme (also a San Diego-based company). According to DOE, the algal oil is converted to polyols by UCSD chemists and then sent to surboard manufacturer Arctic Foam. Once here, the company shapes the foam boards and then coats them with fiberglass and a renewable plant-based resin.
Does it work? DOE said early surfer reviews have given the prototype a "perfect ten". The "surfboard of the future" is a bit more flexible than traditional surfboard and this appeals to many surfers.
The team of scientists along with Solazyme and Artic Foam are planning to continue their work and the hope is that polysols will eventually be able to replace components of not only surfboards, but other products that require similar petroluem-based chemicals.