Ecotech Institute has released another installment of their Ditch the Desk eBook series. The latest free book is a comprehensive guide covering everything from networking tips, industry trends, required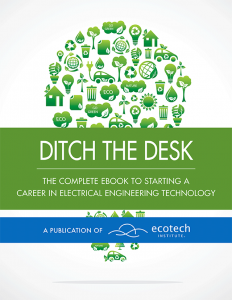 skills and insights from Peter Luciano, a service manager with Konecranes.
eBook Ditch the Desk: The Complete eBook To Starting A Career in Electrical Engineering Technology also delves into how the renewable energy movement has created a new demand for tools, technologies and equipment to help companies and individuals use energy efficiently and finds there is an increased demand for trained professional technicians to assess these needs. These electrical engineering occupations take specialized training, cleantech industry knowledge and passion.
Now, future electrical engineering technicians have one place to access vital information about the industry, including:
Key industry facts about the electrical engineering sector;
Tips for job seekers in the clean energy field;
Expectations and requirements for electrical engineering jobs;
States where hiring is hot; and
Advice from current students, working industry experts and technicians.
The eBook is available for download at EcotechInstitute.com/eBook.