Ethanol exports dropped again during May to hit their lowest level of 2015. The Renewable Fuels Association (RFA) reports exports dropped 14 percent from April to 64.6 million gallons (mg), with the largest cutbacks in Tunisia, India, the Netherlands and the Philippines. Year-to-date exports of 377.1 mg implied an annualized total of 905 mg for 2015, which would surpass all years but 2011.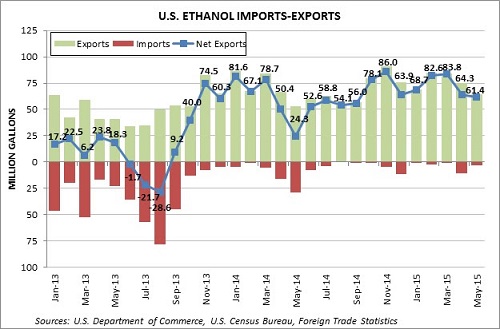 The United States reduced its exports of undenatured ethanol for fuel use by 34%, dropping from 42.8 mg in April to 28.4 mg in May. Top customer Brazil once again cut U.S. ethanol imports (13.8 mg, or 49%), while the Philippines (4.0 mg), Mexico (3.8 mg) and Nigeria (3.4 mg) received significant volumes. May exports of denatured ethanol fuel increased 13% to 33.5 mg, surpassing shipments of undenatured product for the first time since October 2014. Canada (17.2 mg), Oman (12.6 mg) and Peru (3.5 mg) accounted for virtually all of the volume exported. The United States exported 545,652 gallons of undenatured ethanol for non-fuel, non-beverage use and 2.2mg of denatured ethanol for non-fuel, non-beverage use in May, in line with recent norms.
Ethanol imports were dramatically lower in May, with the U.S. taking delivery of 3.2 mg of denatured product from the Netherlands and 33 gallons from Germany. Total year-to-date imports of 16.4 mg are less than a third of imports at this time last year.
Meanwhile, May exports of U.S. distillers dried grains with solubles (DDGS)—the animal feed co-product manufactured by dry mill ethanol plants—surged 23 percent over April levels and marked the second biggest monthly jump on record. May shipments were 1,171,916 metric tons (mt), topping the 1.1 million mt mark for only the third time. Monthly exports to China were at an historic high of 864,777 mt in May, nearly three-quarters of total U.S. DDGS exports.