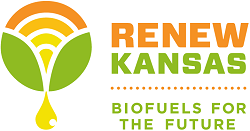 A group representing ethanol producers in Kansas has changed its name. The Kansas Association of Ethanol Processors (KAEP) has changed its name to Renew Kansas to better reflect an evolution of the association's mission to promote ethanol as a renewable fuel that is good for the Kansas consumer, environment and economy.
The transition comes after months of strategic planning and analysis by the KAEP Board of Directors and staff. The Greteman Group, an advertising agency in the Wichita area, directed the rebranding efforts with a new logo, website and industry messaging.
"Changing our name to Renew Kansas better reflects our focus in promotion and education of ethanol fuels as good for consumers and the state," said Tom Willis, CEO of Conestoga Energy Partners in Liberal and Chairman of the KAEP Board of Directors. "We look forward to expanding our reach with our new identity and growing our organization to help meet future energy needs."
Chek out the Renew Kansas website, www.renewkansas.com.