The U.S. Department of Energy's (DOE) wave energy competition is moving toward the next phase with 92 teams. The Wave Energy Prize is a design-build-test competition encouraging the development of better innovations for wave energy conversion (WEC) devices that will double energy capture. When this is achieved, costs will be reduced making wave energy more competitive with established energy technologies.
The 91 American teams and one team from Denmark official will now begin working to double the energy captured from ocean waves and win a prize purse totaling more than $2 million.
"We're extremely pleased with both the quantity of teams and the diversity of participants reflecting broad expertise from so many established companies in the ocean energy space, universities, an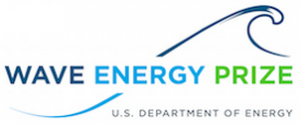 d newcomers to the industry," said Julie Zona, Wave Energy Prize administrator. "The composition of the participating teams truly demonstrates one of the benefits of a prize challenge, which is to encourage the inclusion of new perspectives. We're very hopeful that the diverse backgrounds of these teams will help lead to the Prize's goal of achieving game-changing performance enhancements to wave energy technologies."
Team names and background information on the official registered teams can be found on the Wave Energy Prize website.