Energy efficiency is improving in America. A new report find the country's energy intensity, the measurement of energy used per dollar of gross domestic product, is down from 12.1 thousand Btus per dollar in 1980 to 6.1 thousand Btus per dollar in 2014. The report, Energy Efficiency in the United States: 35 Years and Counting, was released by the American Council for an Energy-Efficient Economy (ACEEE).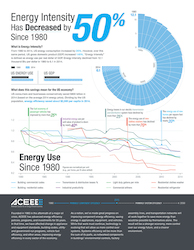 The report found that nearly 60 percent of the improvement in energy intensity was due to energy efficiency and about 40 percent to major structural changes in the economy. The bottom line according to ACEEE:  Just the energy efficiency portion saved U.S. consumers and businesses about $800 billion in 2014, roughly $2,500 per capita. Even though U.S. energy use edged up by 26 percent from 1980 to 2014, the U.S. gross domestic product (GDP) increased by 149 percent.
The report concludes that "while much progress has been made, there are large and cost effective energy efficiency opportunities that, by 2050, can collectively reduce energy use by 40-60 percent relative to current forecasts."
Report co-author and ACEEE Executive Director Steven Nadel said: "Energy efficiency has made great strides in the past 35 years, and we have learned many important lessons on how markets and policies can work together to advance it. Looking forward, we find opportunities to reduce 2050 energy use by half relative to a business-as-usual reference case. In order to harvest these large efficiency opportunities, we need to take our efforts to a higher level. The challenges are many, but so are the benefits in terms of lower energy bills, a stronger economy, improved energy security, and a cleaner environment. The past has shown us what efficiency can do and it can guide us to even greater success in the future."
In addition to highlighting the areas that have achieved most significant energy reduction, the report also recommends tactics to be taken to further improve energy efficiency.