While ethanol got most of the attention at the recent EPA hearing on proposed volume obligations under the Renewable Fuel Standard (RFS), biodiesel producers had their say as well.
At least two dozen biodiesel representatives from across the country testified at the hearing to thank EPA for increasing volumes in the latest proposal while at the same time calling for further growth in the final rule set to be released in November.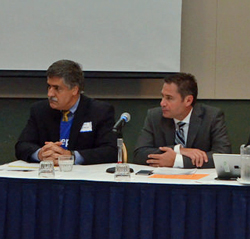 "The biodiesel industry can do much more to make the whole program stronger," said National Biodiesel Board (NBB) CEO Joe Jobe in an interview at the hearing. "Biodiesel is the only domestic, fully commercialized, advanced biofuel and we've helped the advanced biofuel category meet its goals nearly every year of the program."
Biodiesel falls under the Biomass-based Diesel category of the RFS, which is a subset of the overall Advanced Biofuels category. The EPA proposal would gradually raise biodiesel volumes by about 100 million gallons per year to a standard of 1.9 billion gallons in 2017. Because of biodiesel's higher energy content, this would count as 2.95 billion ethanol equivalent gallons under the RFS. The overall Advanced Biofuel standard would rise to 3.4 billion ethanol equivalent gallons in 2016. NBB had requested more aggressive growth to a biodiesel standard of 2.7 billion gallons by 2017, along with additional growth in the overall Advanced Biofuel category.
Listen to Jobe explain more in this interview: Interview with Joe Jobe, NBB