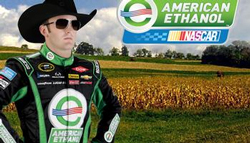 American Ethanol driver Austin Dillon had a wild July 4th weekend, earning his first career win at Daytona in Friday night's Xfinity Series race and then ending a rain-delayed Coke Zero 400 race with a car upside down and in pieces just moments before Dale Earnhardt, Jr. crossed the finish line after 2:40 am.
Dillon, who was not driving the American Ethanol car in the race, had only minor injuries in the horrific crash that tore down fencing and threw debris on fans. The grandson of racing legend Richard Childress, Dillon afterward thanked "the good Lord for taking care of me and for what NASCAR has done to make the sport this much safer."
American Ethanol is a partnership with NASCAR and all races are run on 15% ethanol-blended fuel. Dillon is an official spokesperson for American Ethanol and drives the No. 3 American Ethanol Chevrolet SS in select races.