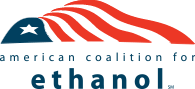 As drivers are hitting the road for the 4th of July weekend, they'll be able to do so with a little extra jingle in their pockets, thanks to ethanol. This news release from the American Coalition for Ethanol (ACE) says gas prices are lower because of the green fuel.
"People are traveling more because gas prices are about a dollar a gallon less than last year," says ACE Senior Vice President Ron Lamberty, "American drivers are paying $11 billion a month less at the pump. That's almost $40 bucks a month for every man, woman and child in the U.S."
Lamberty says ethanol production gains made possible by the Renewable Fuel Standard (RFS) are a big help in lowering the price of gas.
"Ethanol costs less than gas, so adding ethanol lowers the price of gas," Lamberty explained. "And when people can use more ethanol in fuels like E15 or E85, that's more competition for gasoline. That forces oil companies to lower their prices to compete, and that's why they badmouth ethanol and the RFS."
Lamberty also warned that Big Oil is trying to get Congress and the EPA to eliminate or dramatically weaken laws that allow ethanol to compete with gasoline, and if petroleum interests are successful, we'll all end up paying more.