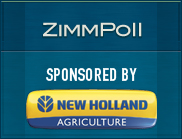 Our latest ZimmPoll asked the question, "Will EPA change RFS volume proposal?"
The EPA recently released a new proposal for biofuels volume obligations under the Renewable Fuel Standard – one that has made no one happy but particularly corn farmers and ethanol producers who note that the agency is not implementing the law as intended. EPA held a public hearing to get comments on the proposal but will it lead to a change? Half of those who took our recent poll believe that the EPA won't change RFS volumes. Time will tell.
Here are the poll results:
No – 50%
Yes – 29%
Maybe – 21%
Our new ZimmPoll is now live and asks the question, What's on your grill this 4th of July?
Beyond fireworks, grilling seems to be a top priority when families and friends gather to celebrate Independence Day. July is also known as National Hot Dog Month. So, will you be joining the tradition by eating hot dogs on the 4th or will you be grilling up something else?