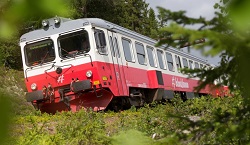 A train line in Sweden has plans to convert its fleet to run on biodiesel. This article from Global Rail News says Inlandsbanan AB wants to make the conversion by the year by 2020.
Inlandsbanan AB has received funding from the EU to assess the feasibility of converting its diesel trains to RME, a biodiesel produced from rapeseed.
The initiative would allow Inlandsbanan AB to commit to cutting its greenhouse gas emissions without footing the substantial cost of electrifying the 1,300-kilometre railway between Kristinehamn and Gällivare.
Conversion to biodiesel would reduce the operator's carbon emissions by 60 per cent, Inlandsbanan AB has said.
Testing will begin later this year.