Senator Amy Klobuchar (D-MN) keynoted the opening session of the BioEnergy 2015: Opportunities in a Changing Energy Landscape conference in Washington, D.C. During her remarks, she noted it isn't an easy time to be in Washington in terms of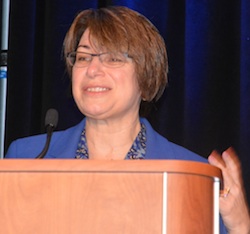 energy policy and the country has "lost opportunities" in energy policy since 9-11.
Sen Klobuchar explained that in the summer of 2008, right before the downturn, energy legislation was pushed through but legislators were unable to push through a federal Renewable Electricity Standard (RES). Instead, President Obama, during the worst downturn since the Great Depression, opted to move forward with failed Cap and Trade legislation.
"We've been governing by crisis," said Klobuchar who stressed that now is the moment to govern by opportunity. She quoted Pope Francis who recently released his Encyclical on climate change who asked, "What kind of world do we want to leave to those who come after us?" A better world, said Klobuchar.
Klobuchar ended her remarks focusing on ways the country can build on the progress of the past few years, including the success of the Renewable Fuel Standard (RFS).
Listen to Senator Amy Klobuchar's remarks: Senator Amy Klobuchar Remarks
View the 2015 BioEnergy 2015 photo album.
(Note: two days after her presentation the EPA held a public comment hearing in Kansas City where hundreds of people from across the country came together to support the RFS. Coverage can be found here.)