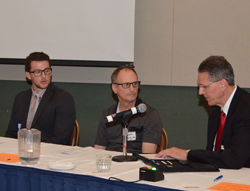 Of the more than 240 stakeholders who testified at the EPA hearing last week on the Renewable Fuel Standard (RFS), at least 35 were citizens who spoke about why they felt it was important for our nation to continuing increasing the use of biofuels.
One of those was Austin Ludowese (pictured far left) of Stewart, Minnesota, who was raised on a family farm and is a senior at the University of Wisconsin-Stout majoring in business administration. "I was here representing a lot of young farmers who have the desire to come back to the farm," said Ludowese who told EPA how the RFS encouraging ethanol production has helped his small community.
Ludowese says he was encouraged by the turnout at the hearing. "It really is overwhelming to see all the different supporters come from all the different areas, whether it's an ethanol plant or just a simple farmer," he said. "It's a lot of the same message just expressed in different ways."
He added that he does believe the EPA is listening and paying attention to what the stakeholders have to say about the RFS.
Interview with EPA hearing witness Austin Ludowese