Martifer Solar has completed the construction and connection of a 738.45 kWp PV system on the rooftop of the Decathlon building in Evere, Belgium for the company Orka NV. The company handled all aspects of the plant development and construction.
According to Martifer, The building hosts the largest Decathlon store in Europe and currently stands as one of their largest stores in the world. With an area of 10,600 m2, the 738.45kWp PV plant installed on the building's rooftop, was built using 2,735 monocrystalline solar panels installed on fixed structures. The rooftop PV plant will produce an estimated 632.3 MWh/year.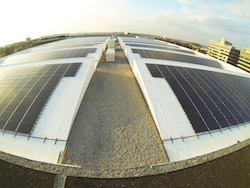 "This PV plant installed by Martifer Solar in the Benelux region represents the reliability, safety and bankability of the projects and work that we have been doing in this region. The achievement of more than 150 projects built on over 300 rooftops in Belgium, together with our global expertise allows us to consolidate and expand our strategy for the EPC and O&M business in the Benelux region," said Luis Pinho, operations manager in Belgium for Martifer Solar.
Jan Heyse, managing director of Orka, investor and asset manager for the project, added, "This project was more complex and had a longer development lead time due to the close integration with the construction of the building itself. We have enjoyed working with Martifer Solar to realize this project to the satisfaction of all stakeholders. With this realization Orka's capacity in rooftop PV in the Brussels region totals 7Mwp, divided over 6 rooftops."
With the completion of this project, Martifer Solar has installed approximately 35 MW of total PV capacity installed in Belgium.