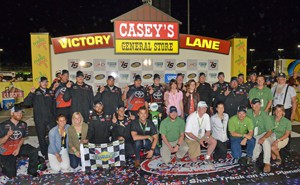 The winner of the 2015 American Ethanol 200 presented by Enogen is Erik Jones. This is his fifth victory in 26 NASCAR Camping World Truck Series races and first in 2015.
The photo is Erik's team along with the folks from Syngenta/Enogen. The winner's circle is THE place to be! In my photo album I've got over 300 photos from today's activities that I hope you will enjoy and share.
It has been a long day so I'm calling it quits now. However, expect to see and hear more from Iowa Speedway this coming week. I have a number of interviews to share that I think you will enjoy.