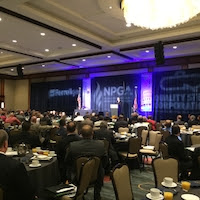 Members of the GROWMARK and FS System were recent participants in the National Propane Gas Association's (NPGA) 2015 Propane Days at the nation's capital. This news release says the members were educated regarding affairs and legislation that affects the propane industry and how to be actively involved in its development.
"The Propane Days conference was a great opportunity to work with dedicated FS and GROWMARK experts as well as the Illinois Propane Gas Association. It was a privilege to work together and with our legislators toward the common goal of promoting propane as a clean, alternative fuel of choice," explained Kevin Johnson, energy specialist with Heritage FS, Inc.
Attendees had the opportunity visit with their Congressional representatives to encourage the extension of key tax provisions, equalization of taxes on propane, and parity of propane relative to other auto fuels. The event also provided networking opportunities with other industry colleagues throughout the nation and a discussion with PERC staff to learn more about the national Propane Education and Research Council (PERC) efforts.
"I feel the Congressional visits will reward the industry for years to come. The visit to PERC was such an eye opening experience which yielded great information. I can't wait to share my new found knowledge with my team back home," said Chris Olson, LP and retail marketing manager with Illini FS.