The biofuels industry is reacting to what is being called an "unfriendly" hearing being held tomorrow by the Senate Homeland Security Committee as well as to a press briefing held earlier today by the American Petroleum Institute (API), who industry supporters say is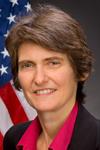 seeking a means to end the Renewable Fuel Standard (RFS). The hearing, "Re-examining EPA's Management of the Renewable Fuel Standard Program," will be focused on examining EPA's management of the RFS and features only one speaker: Janet McCabe, acting assistant administrator for the Office of Air and Radiation.
API this morning argued against the RFS by once again raising concerns over the EPA biofuel mandates warning "that higher ethanol mandates could damage vehicles and raise food costs." Corn prices are spiraling downward and are the lowest seen in over two years despite growing ethanol use as noted Wisconsin corn farmer Cal Dalton during a Fuels America press conference this afternoon.
Dalton was joined by Ohio corn grower Fred Yoder and Bob Dinneen, CEO and president of the Renewable Fuels Association (RFA), who said during the call, "There is nothing wrong with the RFS that can't be fixed by what is right with the RFS." He continued by saying new legislation is not needed, but rather, the EPA needs to review the statute and put the program in place that Congress established.
Participants on the call also discussed how legislative changes to the RFS will threaten America's security, consumer choice, climate and rural economies. They also provided insight on EPA's proposed renewable fuel obligations (RVOs) and they reacted to the claims put forth during the API media call.
The media conference was also a preview of the RFS public hearing taking place in Kansas City, Kansas on June 25, 2015 where EPA representatives will hear comments on the proposed rules for 2014, 2015, 2016 and the proposed 2017 RFS standard for biomass-based diesel. More than 250 people have already submitted requests to speak during the event. DomesticFuel will be covering the event live that begins at 9:00 am CT and will be held at Jack Reardon Center, 520 Minnesota Avenue, Kansas City, Kansas 66101.
To learn more about the ethanol industry's call to the EPA to get back on track, listen to the Fuels America press conference here: Fuels America RFS Hearing Presser