Today is Global Wind Day. Coordinated by the Global Wind Energy Council along with the European Wind Energy Association (EWEA), this year the groups are partnering with SolutionWind, a worldwide wind awareness campaign promoting the use of wind power leading up to COP21 climate negotiations in Paris in December.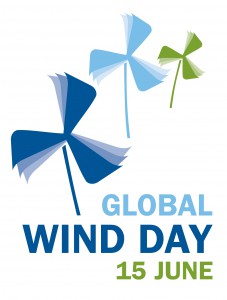 Global Wind Day is a day for "discovering wind energy, its power and the possibilities it holds to reshape our energy systems, decarbonise our economies and boost jobs and growth". This is also a day the wind industry is honoring the companies who have committed to using wind energy to power their operations.
According to EWEA, wind power is one of the fastest growing industrial sectors globally attracting $100 billion in investment in 2014. Research also shows that onshore wind power is now cheaper than conventional energy sources in an expanding number of markets worldwide.
"Climate change is happening faster than expected, but so is the transition to renewable energy. As businesses become increasingly aware of the progress in technology and falling costs we are seeing a rapid change in investment patterns," said Steve Sawyer, secretary general of the Global Wind Energy Council. "Companies like IKEA pave the way for a fossil free future and give an important example for others to follow."