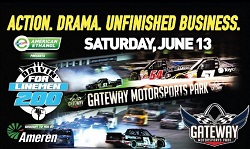 American Ethanol is using one of its most popular venues, NASCAR races, to rally fans to support the Renewable Fuel Standard (RFS). This item from the National Corn Growers Association says races in Michigan and St. Louis this weekend will put the power of ethanol on display, while asking fans to let known their displeasure of the Obama Administration's cut to the amount of ethanol in the RFS.
The highlight in Michigan will be Austin Dillon hitting the track in his second American Ethanol paintout of the season in his No. 3 Chevy. At Gateway American Ethanol will a sponsor the American Ethanol Presents Drivin' for Linemen 200.
In both Michigan and St. Louis, fans will be asked to show their support for American Ethanol by sending postcards to the Environmental Protection Agency telling them to reverse their decision to cut the amount of ethanol currently in the Renewable Fuels Standard.
In both Michigan and Gateway, American Ethanol has teamed up with state corn growers to educate consumers at the race sites.
"This will be a great opportunity to connect consumers, car dealers and the Michigan farmers who contribute to our fuel supply for a weekend of fun and information," said Jim Zook, executive director of the Corn Marketing Program of Michigan. "When we use more Michigan-made fuel, it translates directly into stronger rural communities, more jobs and more money that goes back into our state. Our corn growers are huge NASCAR fans, and we are proud of the work we do to supply these drivers with American Ethanol."
"We are excited to be a part of this event because the Gateway track is surrounded by corn and ethanol production and both are critical parts of the economy," said Lou Lamoreux, chairman of the Illinois Corn Marketing Board and a Lanark, Ill. farmer. "This location also gives us a chance to promote E15 and other higher blends of ethanol to drivers from urban St. Louis."