The Formula SAE series is heading to Lincoln Airpark, located in Lincoln, Nebraska, on June 17-20, 2015. More than 250 universities from around the world participate in the series, where teams have a choice of using E85 or unleaded gasoline. One of the participating teams is the University of Lincoln, Nebraska-based Husker Motorsports that races on E85 and is supported, in part, by the Nebraska Ethanol Board (NEB).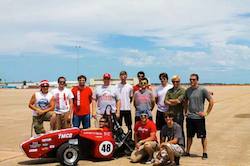 "We run E85 because it is a part of Nebraska's culture and we like to represent our state well at competitions," said Charles Lee, Husker Motorsports member. "There is an additional technical benefit of E85 having an extremely high octane rating.  We are very fortunate that the competition moved to Lincoln several years ago, which led to the formation of our team and provides great opportunities for our members. We are proud to represent Nebraska and UNL by going head to head with some of the country's top universities."
In addition to the competition, there will be a meet and greet with Dan Schwartzkopf, former National Hot Rod Association (NHRA) drag racer, June 17 from 1-4 p.m. at the main Airpark tent. Schwartzkopf, who raced more than 15 years, was the first producer of race ethanol provided to the Indy Racing League. He has been promoting ethanol as a performance fuel since 1992, and continues to work as a fuel tech for Ethanol Performance Fuel and other venues.
"Ethanol is cleaner-burning with higher octane allowing it to compete with all race fuels while reducing emissions," Schwartzkopf said. "Ethanol is competitive in several ways: it costs less, performance is equal or better than unleaded gasoline, non-toxic octane booster for high-compression engines, and it's healthier for the driver and the environment."