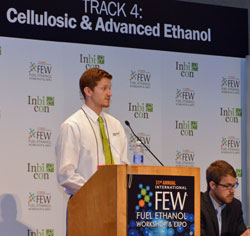 Novozymes was first up on the Cellulosic and Advanced Ethanol Track at the 2015 Fuel Ethanol Workshop with ways to help first generation biofuels producers take the next leap forward with enzyme technology.
"We've been looking at how we can take all of our significant efforts in research and development in cellulases and find applications for them," said Novozymes scientist Aaron Hawkins.
One of those is Spirizyme® Achieve, the industry's first fiber-degrading glucoamylase, which can increase ethanol yields by an average of two percent by getting more starch out of the corn fiber and ultimately be used to produce cellulosic ethanol.
"Corn fiber represents very low hanging fruit for the production of cellulosic ethanol," said Hawkins. "If there were 100% adoption of a cellulosic ethanol process based on corn fiber, that could give us over a billion gallons of cellulosic ethanol capacity in the U.S. alone so there's a very significant opportunity here for corn ethanol producers." FEW 2015 presentation by Aaron Hawkins, Novozymes
Hawkins also talked about a brand new product they just launched for biodiesel producers called Eversa®, an enzymatic solution to make biodiesel from waste oils. "One of the major advantages of it is that it can utilize any feedstock with any free fatty acid composition," including distillers corn oil, which Hawkins says "opens up new opportunities for corn ethanol producers to utilize distillers corn oil and upgrade it on site to biodiesel."
These kinds of innovations, Hawkins says, are helping the industry move closer to a complete biorefinery concept. Interview with Aaron Hawkins, Novozymes