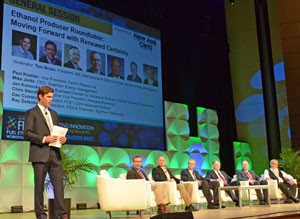 A diverse group of ethanol producer company representatives took the stage Tuesday at the 2015 Fuel Ethanol Workshop and much of the conversation centered around reaction to the EPA's new proposed volume obligations for biofuels under the Renewable Fuel Standard (RFS). Panelists also discussed the industry's continuing efforts to expand the marketplace for ethanol with higher blends, progress with cellulosic ethanol production facilities, and more.
BBI International president Tom Bryan moderated the panel, which featured:
Paul Koehler, Vice President, Pacific Ethanol
Mike Jerke, CEO, Guardian Energy Management
Jan Koninckx, Global Business Director for Advanced Biofuels, DuPont Industrial Biosciences
Chris Standlee, Executive Vice President, Abengoa Bioenergy
Dan Cummings, President, POET-DSM Advanced Biofuels
Ray Defenbaugh, President, CEO & Chairman, Big River Resources
This is a conversation worth listening to as each of these industry pioneers had insightful comments and a positive attitude about the ethanol business in the United States going forward.
FEW 2015 Producer Panel