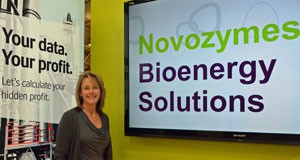 As the global market leader in enzyme production and a pioneer in the bioenergy business, Novozymes is uniquely positioned to partner with ethanol producers for increased profitability.
"What we really try to do is understand what are the goals of our customers," says Kim Bertz, Senior Regional Marketing Manager for Biofuel with Novozymes. "We want to help them achieve both their short term and long term goals."
Novozymes offers an assortment of products that first help break corn down into ethanol. "Whether they're going for yield, or throughput, maximizing output – whatever that may look like, those are the things we really try to deliver," said Bertz.
The Novozymes technical service group has other solutions from analyzing data, training, process optimization – all designed to help plants hit that next highest benchmark.
In this interview, Bertz also talks about the commitment Novozymes has to the biofuels industry and why they are big supporters of the FEW. Interview with Kim Bertz, Novozymes