Louisiana Clean Fuels has awarded its Fleet of the Year Award to Republic Services of Baton Rouge for their use of Compressed Natural Gas (CNG). Republic's collection company, BFI Waste Services has reduced its use of petroleum and emissions by using CNG. Louisiana Clean Fuels presented the Award at its 15th annual Clean Fuel Leader Awards Gala in Baton Rouge on Thursday evening, May 21.
"We have a responsibility to lead by example, and reduce vehicle emissions whenever possible," said Alexander Burgess, area president of Republic Services. "We believe that we can make a meaningful difference in the communities we serve by doing our part to preserve the natural beauty of the Gulf Coast for future generations. Our employees are proud to call Louisiana home, which makes this recognition special on a personal level for every member of our team."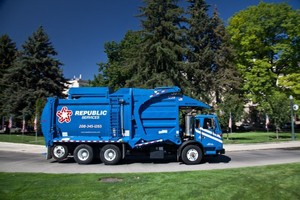 Republic added 42 CNG powered collection trucks and installed a new natural gas fueling station to support its expanding fleet in Baton Rouge in 2014. Republic plans to deploy 18 additional CNG powered trucks this summer. This expansion, combined with the CNG fleet already serving customers in the Shreveport area, is expected to make Republic Services' collection company the largest natural gas fleet operator in the State of Louisiana.
"Louisiana Clean Fuels is dedicated to educating both public and private fleets on the benefits of alternative fuels as well as assisting them in their efforts to transition to cleaner burning, domestically produced alternative fuels," said Ann Shaneyfelt, executive director of Louisiana Clean Fuels, a designated Clean Cities Coalition. "That's exactly what Republic Services is doing in our area and nationwide. We congratulate Republic for their progress in converting their Louisiana Fleet to CNG. This year, we are proud to honor them with the Louisiana Clean Fuels 'Fleet of the Year' award for their successful roll out of their CNG refuse haulers at their Baton Rouge Division."
According to Republic Services, they operate a fleet of more than 2,200 CNG vehicles and 36 natural gas fueling stations nationwide, and their CNG fleet helps to save roughly 18 million gallons of diesel fuel annually.