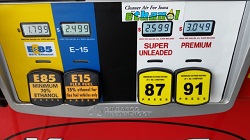 On the heels of the U.S. Environmental Protection Agency's (EPA) cutting of the amount of ethanol required to be mixed into the nation's fuel supply, the agency's inaction on another front means 15% ethanol blended fuel is going on summer vacation again as the government forces retailers in many areas to needlessly restrict E15 sales to flex-fuel vehicles (FFV) only from June 1 through September 15.
The Iowa Renewable Fuels Association (IRFA) Executive Director Monte Shaw calls June 1 Petroleum Monopoly Day. "Iowans want to buy E15 and retailers want to sell it, but the EPA has yet again put the power in the hands of Big Oil to restrict the option of E15," said Shaw. "This blatant market manipulation is proof positive that we need a strong RFS to crack the petroleum monopoly."
"EPA continues to refuse to treat E10 and E15 the same during the summer. As a result, EPA prevents consumers from purchasing a cleaner-burning, lower-cost fuel and thereby actually helps buttress the artificial 'blend wall' that Congress has directed them to tear down," Shaw added. "It's almost comical that for three and a half months a year, EPA hands the fuel market over to Big Oil resulting in higher prices, more smog forming emissions, and more carbon emissions. How does that make sense?"
EPA has refused to equalize the vapor pressure regulations for E10 and E15 during the summer driving season, running from June 1 through September 15. This allows the petroleum industry to provide Iowa wholesale suppliers and retailers with only the E10 blendstock, cutting E15 out of the market. Ironically, according to Iowa RFA, adding the extra five percent ethanol to summertime E10 actually lowers the vapor pressure and reduces evaporative and tailpipe emissions.