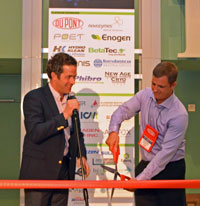 The 31st annual Fuel Ethanol Workshop officially kicked off Monday with the ribbon cutting for the trade show after a beautiful day for the annual FEW golf outing.
Helping BBI International Vice President for Content Tim Portz with the ceremonial opening was Ron Beemiller of WB Services, sponsor for the trade show opening reception, and Growth Energy CEO Tom Buis was recruited to make some opening remarks. Naturally, those remarks centered around EPA's proposed volume obligations under the RFS announced last Friday. "They got the first one wrong a year and a half ago, they got this one wrong," said Buis. "We stopped the last one, we're going to change this one."
Watch below:
The photo album is started and we will have lots to share from FEW this week, thanks to our sponsor Novozymes.