Clean jobs continue to grow with more than one million green energy job postings across the nation during Q1 2015 according to Ecotech Institute's Clean Jobs Index. The index is based on Bureau of Labor Statistics and includes jobs in which workers' duties involve making their company's production processes more environmentally friendly or use few natural resources.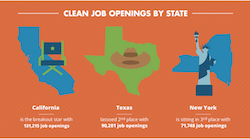 "As more businesses look for ways to conserve energy and renewables continue to gain traction, more jobs are becoming available," said Chris Gorrie, Ecotech Institute's President. "States have come to see clean energy sources as an important piece of infrastructure, opening the door to great opportunities in renewable energy."
In Q1 2015 there were 1.2 million clean job postings in the U.S. with the top states for jobs being California, Texas and New York. States with the Highest Rise in Clean Jobs Openings, Compared to Q1 2014 include: Rhode Island, New York, Texas, North Carolina and Maryland.
States with Most Clean Jobs per 100,000 People:
North Dakota
Iowa
Rhode Island
Colorado
Wyoming
Idaho
Illinois
Ohio
Indiana
South Dakota
EcoTech Institute created the Clean Jobs Index to provide objective information about renewable energy jobs and to compare states' use and development of clean and sustainable energy.