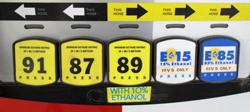 A new statistical analysis prepared for the Renewable Fuels Association shows that retail gas prices remain unaffected by the "RIN credit" system under the Renewable Fuel Standard (RFS).
According to the analysis, conducted by Informa Economics, Inc., prices for "RIN credits" (Renewable Identification Numbers) used to demonstrate compliance with the RFS had no impact on retail gasoline prices from 2013 through the first quarter of 2015.
Instead, the analysis shows that "…a majority of gasoline price movements can be explained by crude oil prices." In fact, the study found that gas prices in recent years have been driven almost entirely by crude oil prices and vehicle miles traveled.
RFA President and CEO Bob Dinneen says the study "disproves the faulty assertion by oil industry trade groups that RINs somehow negatively influence consumer gas prices."
"The bottom line is that RINs are free for refiners who purchase and blend required volumes of ethanol with gasoline," said Dinneen. "Only those refiners who stubbornly refuse to blend required ethanol volumes have a need to buy separated RINs on the open market; and in the highly competitive gasoline marketplace, there is no way they can pass those costs on to consumers and remain competitive with refiners and blenders who are blending more ethanol than required."
The new Informa analysis also supports the findings of an April study by former White House economic advisor James Stock, who concluded that "…there is negligible estimated effect of RIN prices on pump E10 prices." Dinneen notes that Stock is a former Office of Management and Budget official who was involved with the approval of EPA's proposal in November 2013 that called for scaling back the RFS. "I wish he had that revelation when he was at OMB," said Dinneen.
Dinneen comments on the new analysis in this interview: RFA CEO on RINs/Gas Price Analysis