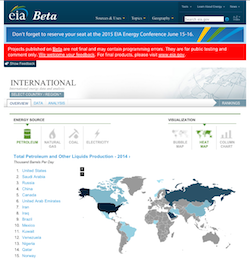 The U.S. Energy Information Administration (EIA) has gone live with its updated International Energy Portal to improve access for people seeking information on international energy data and trends.
"With most of the future growth in energy consumption expected to occur outside of the United States and with increasingly interconnected world energy markets, a clear perspective on the international energy landscape is critically important, and EIA's redesigned International Energy Portal makes it easier to gain insight into global energy developments," said EIA Administrator Adam Sieminski.
According to EIA, the expanded International Energy Portal provides:
Increased access to data. The International Energy Portal includes a powerful new data browser that includes historical information on country-level energy use dating back, in many cases, more than 30 years.
New user-driven customization. The International Energy Portal introduces many features that enable users to customize their experience with EIA's international data.
New data visualization features. These features include summary graphics of the world's top energy producers and consumers broken down by energy source. Users can also generate a variety of data visualizations to quickly see how energy production, consumption, reserves, imports, exports, and carbon dioxide emissions have changed over time.
Improved access to international analysis. The International Energy Portal links to EIA's international forecasts and projections such as EIA's Short-Term Energy Outlook and International Energy Outlook. It also provides access to EIA's entire library of international reports and analysis.
Enhanced data downloads. The International Energy Portal incorporates a complete application programming interface (API) that provides access to EIA's historical international data.