DCE Solar has released the third installment in its Solar Implementation Library. The new report focuses on the unique installation challenges and opportunities present with landfills, also known as "brown fields," and other locations where standard beam-driven rack mounts would be inappropriate or impossible.
"Land that is otherwise unusable for development or building holds tremendous potential for solar energy collection," said Bill Taylor, CEO of DCE Solar. "By adding a new source of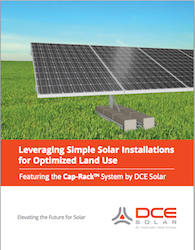 revenue generation for these properties, property owners can optimize their return on investment for a wide variety of real estate assets."
In addition to presenting additional streams of income for property owners, DCE Solar's report also highlights excellent earning potential for installers. The report states, "Ballasted ground-mount arrays are often another opportunity for developers to utilize low cost available land to create a nice ROI. This report is a guide that will assist those professionals in obtaining the results they expect."
Common challenges such as corrosion prevention, anchoring and slippage, and streamlined assembly are also highlighted in the report. As well, considerations such as materials used in composition, the ability to pre-assemble off-site, and methodologies for minimizing maintenance are discussed. Like other instalments in the library, the report outlines a best-practices approach for the various sites that require zero-penetration applications.
"One of our goals for this report in particular is that it will attract additional opportunities for the solar energy industry," added Taylor. "By reducing the cost, we expect to see continued expansion of the solar market."