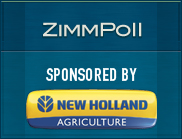 Our latest ZimmPoll asked the question, "What technology is most responsible for rapid planting progress?"
#Plant15 is in full swing and many attribute the rapid progress to auto steering and GPS capabilities. Others commented saying larger equipment, lots of hard work and long hours come into play. I know all are true. Where would we be without technology?
Here are the poll results:
Automatic section control (ASC) – 5%
Variable-rate seeding – 6%
Precision seed metering – 21%
Auto steer/GPS – 31%
Faster planters – 16%
Other – 21%
Our new ZimmPoll is now live and asks the question, What is your favorite type of craft beer?
The Alltech's Rebelation is right around the corner and no Alltech event is complete without craft beer. This year Alltech will kick off the educational festivities with the 2nd Annual Craft Brews & Food Fest slated for Saturday, May 16. In honor of that, we want to know what craft beer tops your list. Do your taste buds lean towards an IPA, wheat, stout or do you love them all?