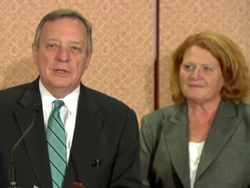 Senator Heidi Heitkamp (D-ND) led a number of her Democratic colleagues in calling on Environmental Protection Agency (EPA) to stop the continued delays of the Renewable Fuel Standard (RFS) rule and highlighted the impact that the uncertainty of the past two years has had on biodiesel industry.
"We stand together as Democratic Senators who care about this industry, care about energy independence, care about farm country, and care about the diversity of our energy sources to plead with the President of the United States to participate in this discussion," said Sen. Heitkamp. "If you really are serious about a diverse energy mix, why do what we're doing to the biodiesel industry?"
Joining Sen. Heitkamp were Sens. Dick Durbin (D-IL), Maria Cantwell (D-WA), Amy Klobuchar (D-MN), Jeanne Shaheen (D-NH) and Al Franken (D-MN), as well as biodiesel producers, who also stressed how the uncertainty caused by EPA's misguided 2013 rule and delays on farmers and biodiesel workers.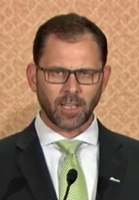 Kent Engelbrecht, the manager of the biodiesel division at ADM, which has a biodiesel plant in Velva, North Dakota and is headquartered in Illinois, as well as Todd Ellis, vice president at Imperium Renewables near Seattle, Washington, discussed how the delays have impacted their own operations and others.
"2014 was poised to be a breakout year for biodiesel, until the 2014 RVO proposal intervened," said Engelbrecht. "With the subsequent expiration of the biodiesel tax credit, we were forced to cease or slow production at all of our facilities."
Listen to or download audio here: Comments from Senators and Biodiesel Industry on RFS Delays
The senators' press conference was held as word came out Thursday that EPA has sent its new RFS volume obligation proposal, which is due to be released on June 1, on to the Office of Management and Budget for review.
National Biodiesel Board Vice President of Federal Affairs Anne Steckel thanked the senators for their support and was optimistic about news that EPA may be getting the RFS back on track. "What's most important, however, is that we see volume growth in this pending proposal," said Steckel. "The Obama Administration says regularly that it supports renewable fuels and wants America to lead, particularly in the development of Advanced Biofuels like biodiesel. This proposal will show if that's true. The proof will be in the numbers."