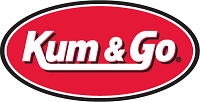 Not only does it burn green, but this coming Monday at Iowa's newest E15 station, the higher blend of ethanol will save you some green. The Kum & Go in Windsor Heights near Des Moines will sell E15 for $1.99 per gallon from 10:00 AM to 2:00 PM on Monday, May 11. This news release from the Iowa Renewable Fuels Association (IRFA) says the promotion also coincides with Kum & Go's announcement last week that the company plans to add E15 to an additional 65 locations in Iowa and six other states over the next two years.
"We have a strong tradition in our company to implement sustainability within our business and at our locations. From our 100 LEED-certified stores, to our selection of alternative fuels, E15 was a natural addition to our fuel offering," stated Kum & Go Vice President of Fuels Jim Pirolli. "Having E15 in our portfolio allows Kum & Go to offer our customers a quality product at a great value."
"Motorists have been clamoring for wider availability of E15, and we applaud Kum & Go for providing Iowans with yet another low-cost, cleaner-burning fueling option," stated IRFA Managing Director Lucy Norton. "E15 is the most extensively tested fuel in history, is safe for use in all 2001 and newer vehicles, and will be priced at a great money-saving discount through this special promotion. That's a win-win-win for Iowa's motorists."
"The American farmer is a backbone of the renewable fuels industry. Thanks to partners like Kum & Go, Iowans can fill up with more American-grown fuels like E15 and E85 that are better for our environment, reduce our dependence on foreign oil, and create new Iowa jobs," stated Iowa Corn Promotion Board Director of Marketing and Communications Shannon Textor. "E15 is five percent more Iowa-grown fuel that supports Iowa's farmers."
The Kum & Go Windsor Heights store is located at 7229 University Avenue.